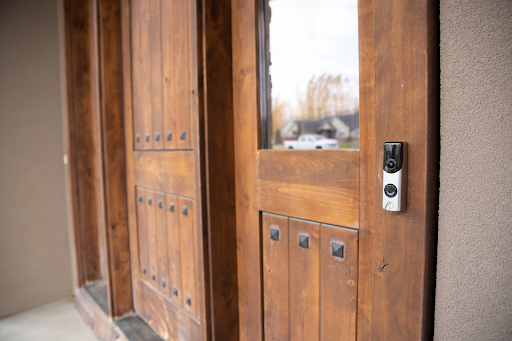 When it comes to protecting your home and family, it's important to make sure you have all the right information. That's why we've compiled some of our most common questions to ask about home security systems, fire and life safety equipment, and home automation to help you answer the most important one, "is a home security system worth it?"
What Are The Main Features Of A Home Security System?
A traditional home security package from home security provider SafeStreets; comes with 24/7 ADT monitoring, a customized security system, maintenance work, an extended warranty, and a cellular connection to professional monitoring. Additional add-ons include life safety, two-way voice, app notifications, remote arm/disarm, system scheduling, video monitoring, real-time video footage, and smart home automation.
A customized security system can include a variety of different features based on your wants, needs, home layout, and more. Here's a quick rundown of the products that could be included in your system:
Smart Lock for Doors

Touchscreen Control Panel 

ADT Video Doorbell

Door And Window Sensors

Glass Break Sensors

Outdoor And Indoor Security Cameras

Flood Sensors

Smoke Detectors

Carbon Monoxide Detectors

Smart Plugs

Smart Lights

Smart Thermostat
For more information on all our packages and plans, click here.
What Types Of Cameras Are Available?
There are three main types of home security cameras available today:
Video doorbells

Outdoor security cameras

Indoor security cameras
Video doorbell cameras are mounted where your traditional doorbell would be next to your front door with a 180-degree view of your front porch and yard area. Outdoor and indoor security cameras are relatively the same except for how they're constructed. Outdoor security cameras are typically built with more durable materials to withstand outdoor elements and prevent tampering.
In addition to considering the types of cameras you want, you'll also want to consider their capabilities. Full color, high resolution, night vision, fixed vs. moving, and remote monitoring are all things you'll want in a reliable and effective home security camera.
For more on our home security cameras and surveillance, click here.
How Do Home Security Systems Help Protect Against Fires And Floods?
As mentioned in our first of our common home security questions, fire and life safety can easily become a part of your home security system. Sensors detecting heat, smoke, CO, and moisture provide the valuable warning alarms you need to stay safe as a family and help protect your home and belongings from damages. They can also send first responders to help as quickly as possible. When comparing home security companies, ask them about their average response time in the event of a fire or safety emergency when time is of the essence. 
SafeStreets is an ADT Authorized Dealer, which means that many of our home security products are professionally monitored by ADT monitoring centers all over the country. Having a security system professionally monitored by ADT will help give you peace of mind that someone will be able to alert you and your family members to an issue in your home, even if you're not there. 
For more on fire and life safety and protection, click here.
Should I Choose A Wired Or Wireless Home Security System?
The choice between a hardwired or wireless home security system might depend on your home setup. If your house is already hardwired for a home security system, then that might make a wired system the obvious choice. However, there are some serious benefits to having a wireless system that you might want to look into. The main wireless home security system benefits include:
Easier installation

Remote control access via cell phones

Increased flexibility to add more to the system later on

Nowhere for thieves to cut off power to your security system

The ability to take the system with you if you move

Still works even when the power is out because the equipment is powered by batteries
For more on the wired vs. wireless debate, read our blog on 7 reasons why a wireless home security system might make the most sense.
How Much Does An Average Home Security System Cost?
Many people think that a home security system is a very pricey investment when in reality, most systems cost as little as $35* a month. For just a little more than a dollar a day, you can sleep peacefully at night knowing you're helping protect your family and home. Plus, think about all the money you'll save by not having to deal with extensive damages from floods or fires, or burglars. A home security or alarm system might even lower your homeowner's insurance premium too!
Read more about how home security systems can pay for themselves by clicking here.
Are Home Security Systems Worth It?
The short answer? Absolutely. We all like to assume that our home is safe because thinking the alternative is stressful and scary. But the reality of life is that the unexpected happens all the time. Even if you aren't necessarily concerned about burglaries, things like fires and floods can happen out of our control. Having a home security system gives you 24/7 peace of mind that no matter what happens, you'll be in control with help on the way.
If you're still pondering the question, "are home security systems effective?" or any others,  SafeStreets can help answer all these and more. Contact us today, and one of our home security company professionals will talk through your needs and provide a free quote for home security equipment. We offer professional installation on every job.